Memory jars – make the most of your happy times.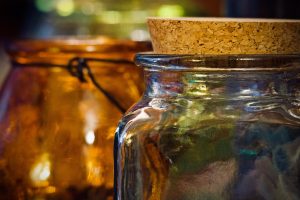 I expect all my clients to get something useful or valuable from every session. Reassuringly, they tell me that they do. Sometime it is an 'Aha' moment, or a complete re-frame of a conflict or problem. Other times it is a new tool, a new idea or a new perspective.
As a therapist and coach I get 'takeaways' from my clients too. Like the one I had today:
At this time of year I often provide clients with a list of questions to help them review the past year. Hopefully they gain some learning from their answers. My first question on the list is: 'What were the 10 best things that happened to you and your family last year?'
Many clients can come up with answers easily and some struggle to see any positives in their year. With these people we work together to recognise that there is more pleasure in our lives than we realise.
Today though, my client (let's imaginatively call him 'John') said 'Oh that's easy! We can just go through the memory jar.'
What is a happy memory jar?
A memory jar is not a particularly new idea, but I had never heard of it, I must admit. John explained:
We have a jar in the kitchen, with a pad of paper next to it and a pen. So any time we have a good experience, any one of us can write a note about it and put it in the jar.
At the end of the year, we sit at the table together and read them out. It is sometimes something we do on New Year's day, or eve. It's amazing how much you forget about your experiences and it can be great fun revisiting the memories together.
I can really see the value of this and I plan to suggest it to many of my clients.
I've seen some great, ready made memory jars online – like this one:
But it really is just a matter of getting any large pickle jar or something similar, a note block and a pen and getting started.
If there is a youngster who can't yet write, they could draw a picture or you could scribe for them. I do think too it might be good to be aware that some members of your family may contribute less than others, so you might have to write some memories that specifically include them.
Once you have read them all out at the end of the year you could also write out the best of them in a journal or otherwise keep an ongoing record, year on year..
Here's to building many more happy memories!