Where do I work?
I generally prefer to work with clients in peaceful pleasant surroundings.  Although I can come to your own home in some circumstances I often find that working at the client's home can cause 'emotional drag'.  There may be too many associations in the client's mind to move forward easily. There may also be distractions, such as phone calls and unexpected visitors which are sometimes difficult to predict.  I therefore prefer to work in professional therapeutic centres.
I don't currently run a drop-in service and as I am at several locations you will need to arrange appointments in advance with me over the phone.
Vinings Natural Health Centre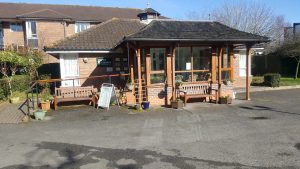 Clover Court, Church Road
Haywards Heath
West Sussex, RH16 3UF
Vinings is a small centre not far from local shops in Haywards Heath.  It is a tranquil building with a pleasant reception area and four therapy rooms. If you are interested in Natural Therapies generally it is worth giving it a visit to see what other services are available.
There is a free private car park on site.
Northlands Wood Practice
7 Walnut Park
Haywards Heath
West Sussex
RH16 3TG
Northlands Wood doctors' surgery is a modern, highly professional practice not far from the Princess Royal Hospital.  At the surgery I tend to see clients who prefer a setting more like a medical practice than a therapy centre. Hypnotic Gastric Band clients are an example. I also run seminars for small groups at the practice on weight-loss, confidence and Exam nerves.
There is parking on the road side in front of the practice and it also has its own car park.
Northlands Wood Practice Website