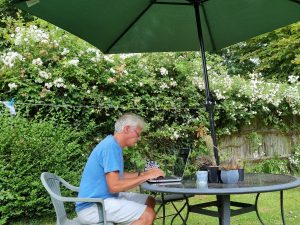 Having a daily routine can be a really important part of making the best of life. Everything that you do as habit or routine is one less task your brain needs to do consciously. Steve Jobs was said to have a wardrobe full of identical suits so that he didn't have to make a decision every day about what to wear.
If you do have a routine, it can be a good exercise to write it down and unpick it a bit. Challenge the 'stuff' you don't need to do, and find ways to make the banal and routine more enriching.
6.00 I get up and have a good breakfast. Sometimes just cereals and toast, but I find it easy to cook up a few poached eggs – just pop the bread in the toaster and the eggs in the boiling water and their done about the same time.
6.00 I spend some of my day working with kids at a breakfast club nearby. It is a matter of hopping on my bicycle and I'm there in three minutes. All of the work I do is local or home based.
Read more »