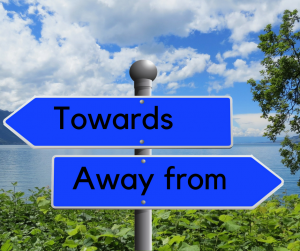 Is your map of the world (see my blog "I finally get getting there") a generally positive one, or typically erring on the side of negativity?
How we respond to our world, as I've said many times before, can totally colour our view of life. Two people viewing the same event can have completely different experiences and interpretations, based on how they filter the information they receive through their senses. There are a range of these filters available to us. For instance we may filter our experience to favour certain senses – focusing on the visual, or on the sounds that are present. We may filter through our values – we may judge easy going people more harshly, for example if one of our highest values is consistency, or achievement.
Another key set of filters is based on our 'Metaprograms'. I think one way to think of these are as 'life attitudes'. They are the way you tend to process information and experiences. Metaprograms are often what is being tested in psychometric tests such as the Myers-Briggs test.
I'll look at just one example of a metaprogram today, but I'll probably write about others in future blogs.  The subject of todays blog is about whether you are a 'towards' or 'away from' person.
'Towards' people
A person who has a 'towards' paradigm, will tend to be focused on goals to be achieved, or positive outcomes to be fulfilled. They may look forward to events in the future, and be looking to make improvements. If you are a towards person, you are looking at what you can gain from a situation, a relationship or a new experience, for example. A 'toward' person is great to have around if you want to get things done quickly, or if you have a major goal to complete.  Sometimes a towards person can get into trouble by not thinking things through properly and taking too many risks. Read more ›