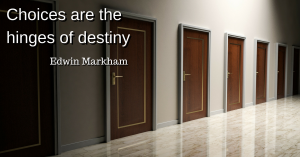 Many clients, when they first come to see me, feel they are stuck. There are so many different situations in which you can find yourself where there just doesn't seem to be any choice.
Here are just a few examples:
being in a co-dependent or abusive relationship;
doing a job you don't like;
unable to lose weight or get healthy;
lonely, but too shy to make friends;
lacking the confidence and self-belief to do what you really want to do.